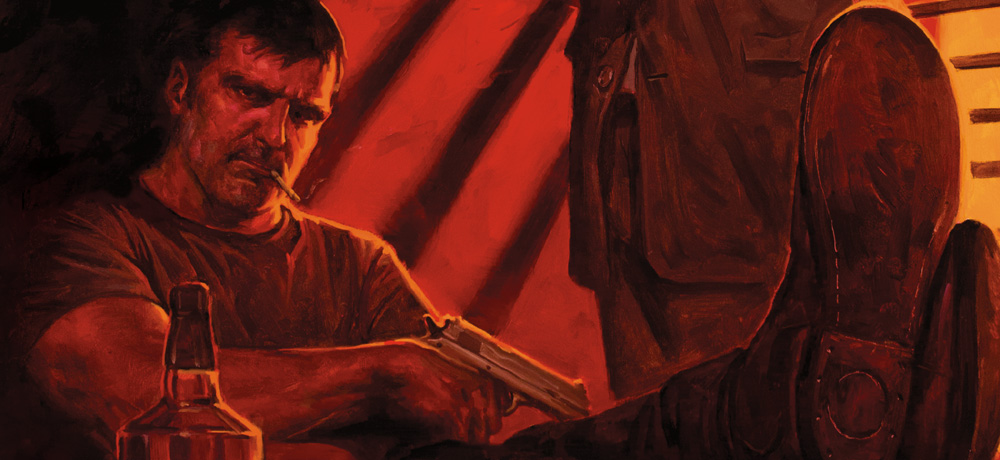 It's not a job he necessarily wants, but the drug-fueled detective Cal McDonald will still do everything he can to keep the world safe from the sinister forces of nefarious magic. In addition to fighting living nightmares on the paneled pages of Steve Niles' Criminal Macabre comic book series, McDonald's eerie adventures are further fleshed out in the short story prose format of Niles' Criminal Macabre: The Complete Cal McDonald Stories, and we're thrilled to exclusively announce that Dark Horse Comics will release a new edition of the acclaimed prose collection, including two new stories and an introduction by the legendary John Carpenter!
Below, we have the exclusive reveal of the cover art for the new edition of Criminal Macabre: The Complete Cal McDonald Stories, which will be released in paperback on March 2nd, 2022.
In the meantime, you can check out the official press release with additional details below, and be sure to keep an eye on Dark Horse Comics' official website!
Press Release: MILWAUKIE, Ore., (June 29, 2021)— Dark Horse Comics presents the newest edition of Steve Niles' Criminal Macabre: The Complete Cal McDonald Stories featuring two brand new tales and an introduction by the horror legend John Carpenter. This new, bone chilling collection collects the complete Criminal Macabre prose stories Savage Membrane; Guns, Drugs, and Monsters; Dial M for Monster; All My Bloody Things, and the two new stories The Dead Son and Out of Water.

The world has two faces. The natural and the supernatural. The face we see every day, people filing past us in an almost zombie-like stupor, numb to the horrors of everyday life or driven to madness by the pain and agony of modern-day existence. And those are the people who aren't zombies or monsters!

Cal McDonald is a detective with one foot in the real world, and one in the world of magic. For Cal, the horrors we all dream about in the fevered darkness of the night are all-too real, kept at bay through an almost constant influx of drugs to numb the pain, but never erase it. Cut from the same mold as Sam Spade, Jake Gittes, and the famous detectives of Chandler, Hammett and Spillane, Cal McDonald, whether he likes it or not, is all that stands between us and the nightmare world just outside our vision.

Criminal Macabre: The Complete Cal McDonald Stories trade paperback will be available everywhere books are sold March 2, 2022. It is available for pre-order on Amazon, Barnes & Noble, TFAW, and at your local comic shop and bookstore. Criminal Macabre: The Complete Cal McDonald Stories will retail for $19.99.

Praise for Steve Niles and Criminal Macabre:

"Niles [is] one of the greatest 'monster comic' writers of the last decade."–Bloody Disgusting

"Steve Niles has created a tremendous character in Cal McDonald. [. . .] Cal is as bad ass as they come."–AIPT

"Criminal Macabre: Die, Die, My Darling! may just be the perfect comic."–Comics Bulletin

About Dark Horse Comics

Founded in 1986 by Mike Richardson, Dark Horse Comics is an excellent example of how integrity and innovation can help broaden a unique storytelling medium and transform a company with humble beginnings into an industry giant. Under a new partnership with Vanguard Visionary Associates, Dark Horse is positioned to further expand its reach globally with publishing, products, and filmed entertainment. Over the years, Dark Horse has published the work of creative legends such as Yoshitaka Amano, Margaret Atwood, Paul Chadwick, Geof Darrow, Will Eisner, Neil Gaiman, Dave Gibbons, Faith Erin Hicks, Kazuo Koike, Matt Kindt, Jeff Lemire, Mike Mignola, Frank Miller, Moebius, Chuck Palahniuk, Wendy Pini, and Gerard Way. In addition, Dark Horse has a long tradition of establishing exciting new creative talent throughout all of its divisions. The company has also set the industry standard for quality licensed comics, graphic novels, collectibles, and art books, including Stranger Things, Avatar: The Last Airbender, The Legend of Korra, Minecraft, The Legend of Zelda, Super Mario, Dragon Age, James Cameron's Avatar, Game of Thrones, Mass Effect, StarCraft, The Witcher, and Halo. Today, Dark Horse Comics is one of the world's leading entertainment publishers.