Party Ghouls Abbey, Venus and Rochelle have been added to the site!
Also look forward to FreeComicBook Day this year as Monster High will have a comic featured. To find a participating comic book store hit up the FreeComicBookDay website http://www.freecomicbookday.com/Article/188086-Free-Comic-Book-Day-2017-Full-List-of-Comic-Books-Announced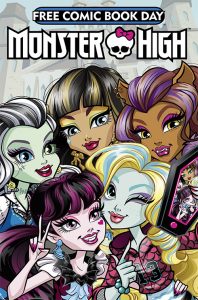 Plus the surprise release of the WalMart exclusive Cleo and Venus Electrified dolls.
Cleo – http://brickseek.com/walmart-inventory-checker/?sku=55125448
Venus – http://brickseek.com/walmart-inventory-checker/?sku=55125447
Read More